COVID-19 Permission Guidelines for Educatiors to read Judy's books

via Videos and Live Events:

Many educators have asked Judy for permission to read aloud to students now confined at home due to coronavirus quarantine. Penguin Random House as well as other publishers have changed their copyright policies temporarily allowing educators to create and share with their students. Below are guidelines from Penguin Random House to follow to avoid copyright infringement. [Penguin Random House is the publisher of Judy's Fudge books… Tales of a Fourth Grade Nothing, Superfudge, Otherwise Known As Sheila the Great, Fudge-a-mania and Double Fudge.]

Penguin Random House Open License Online Story Time and Classroom Read-Aloud Videos and Live Events:

In order to encourage reading and classroom read-aloud experiences, and to support schools and public libraries forced to close by the escalating COVID-19 outbreak, Penguin Random House is permitting teachers, librarians and booksellers to create and share story time and read-aloud videos and live events, according to the following guidelines:

For Teachers and Educators providing distance learning to students in a virtual classroom setting:

Story time or classroom read-aloud videos in which a Penguin Random House book is read aloud and the book is displayed (for picture books) may be created and posted to closed educational platforms such as Google Classroom, Schoology, Edmodo and Discovery Education, in order to replicate the read-aloud book experience that would otherwise be available to educators in the classroom.
If a Teacher or Educator plans to share a story time video by recording a video, uploading it to a YouTube channel, and posting a link to that YouTube video inside a closed educational platform, that YouTube video must be designated as "Unlisted" (not "Public") when uploading. See screenshot for how to choose "Unlisted" while uploading on YouTube.
These story time and classroom read-aloud videos may be hosted on the educational platform and/or YouTube (as an "Unlisted" file) until the end of the current school year, after which we request that they be removed from the educational platform and/or from YouTube, unless this permission is extended for the next school semester.

For Booksellers and Librarians who wish to provide a story time reading or other read-aloud experience to young people who would otherwise visit the library or bookstore in person:

Story time or read-aloud live events in which a Penguin Random House book is read out loud and the book is displayed (for picture books) may be streamed live, in real time, on social media platforms such as YouTube, Facebook Live, Twitter, and Instagram.
These story time or read-aloud live events may not be maintained in the archive of the social media platform and appropriate measures should be taken to ensure that videos of the live events are not retained. Because these platforms automatically archive live events by default, when your event has concluded, please locate the recorded live video in your account (YouTube, Facebook, Twitter, Instagram, etc.) and delete it. See screenshot for how to delete a live video from YouTube after it has concluded.

Reporting requirements – We ask that all educators, librarians and booksellers please notify us via email (addressed to StoryTimeTempPermission@penguinrandomhouse.com) when you post or stream a story time or read-aloud video or live event, providing the following information:

Name and address of the library, school, or store
Title, author and ISBN of the book that is read
Contact information for the individual responsible for the reading
The educational or social media platform on which the video or live event is posted or held and a link to that video or live event

We need stories now more than ever.


Judy's Prior 2020 Appearances:

July 15 - A Mighty Blaze's Authors Love Bookstore Series

Join Judy as she speaks with Kimberly Hensle Lowrance about her indie-bookstore, Books & Books at The Studios of Key West --- how the store has weathered the COVID-19 pandemic and how booklovers can support bookstores at this time. Judy is joined by her husband and Books & Books co-founder George Cooper.
Click here for video of Judy's conversation.

July 31 - Books & Books present the one-and-only virtual event with superstar comedian Jim Carrey.

A virtual evening with Jim Carrey & co-writer Dana Vachon with an introduction by Judy. In conversation about their new semi-autobiographical novel Memoirs and Misinformation, is moderated by Books & Books founder Mitch Kaplan.

Click here for video of the evening.

May 31 - BookCon: Are you there BookCon? It's Judy and Jenny.

Celebrate the 50th Anniversary of Are You There, God? It's Me Margaret.with a not-to-be-missed conversation between Judy and Jenny Han!

Video of conversation to come.

May 28 - BookExpo: The Children's Book & Author Breakfast (now a virtual Dinner).

Join BookExpo's annual event showcasing a lively conversation with Judy, Natalie Portman, Misty Copeland, Raj Haldar, Marie Lu and Kwame Mbalia.

Click here for video of Judy's BookExpo event.

May 26 - The Authors Guild Foundation's Gala Celebrating Literary Icons: Judy Blume and Margaret Atwood.

A live conversation and celebration with Judy and Margaret, the Authors Guild Foundation's 2020 Honorees for Distinguished Service to the Literary Community. Andrea Davis Pinkney moderated this live discussion.

NOTE: The video starts with a "house open" period at the beginning. The show starts at around 21:45 and the Zoom chat starts at 26:37 with Judy, Margaret and Andrea.

February 11 - The MAKERS Conference

Judy and comedian Chelsea Handler in conversation.

Location: Los Angeles, California

Click here for Live Streaming information from Makers Conference

February 8 - American Red Cross Florence Spottswood Humanitarian of the Year Honoring Judy Blume and George Cooper
Location: The Key West Marriott Beachside Hotel, Key West, Florida




We're pleased to announce Judy's MasterClass! Everything you want to know (or don't) about her way of writing.
Write timeless stories
Judy Blume broke the rules. Her refreshingly honest children's books were banned by hundreds of libraries—and loved by generations of readers, who bought 85 million copies of classics like Are You There God? It's Me, Margaret and Superfudge. In her first online class, the award-winning author teaches you how to invent vivid characters, write realistic dialogue, and turn your experiences into stories people will treasure.
Click here for additional information about Judy's first-ever online class.

2018 Carl Sandburg Literary Award

Judy Blume and astrophysicist Neil deGrasse Tyson
are the recipients of the
2018 Carl Sandburg Literary Award
from the Chicago Public Library
and the Chicago Public Library Foundation.

They were honored at a gala awards dinner
in October 9.



Judy's New Undertaking:
Co-Founder of
Books & Books @The Studios of Key West
Have you been wondering what Judy's been doing since the release of In the Unlikely Event?
The absence of a first-class bookstore in Key West weighed heavily on Judy's mind. Key West is famed for many things, not least of which is a literary tradition developed by the cadre of renowned writers who worked amidst and were inspired by its palm shaded charms—Ernest Hemingway, Tennessee Williams, Elizabeth Bishop, James Merrill, John Hersey, Robert Stone, Annie Dillard, and Anne Beattie, to name only a few. The annual Key West Literary Seminar is one of the premiere cultural events in the nation. What Key West was lacking was a top-notch bookstore.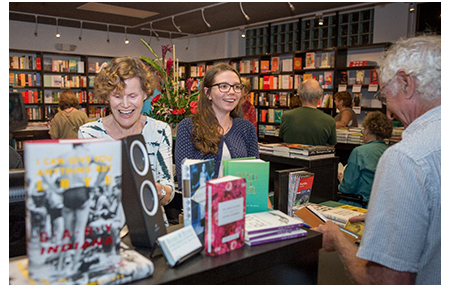 The result was Books & Books @The Studios of Key West --- the brainchild of a small group of local booklovers, led by Judy Blume and her husband George Cooper, who previously founded the Tropic Cinema in Key West.

Books & Books @The Studios of Key West is a locally owned, nonprofit, independently minded neighborhood bookstore. It serves as a community center for readers and writers, hosting author events and featuring a carefully curated selection of books and gift items.

It is affiliated with Books & Books, one of the nation's great independent bookstores, founded in 1982 by Mitchell Kaplan in Coral Gables. It is located in The Studios of Key West, a non-profit arts center and cultural organization in its eighth year—promoting multidisciplinary arts, providing artist-in-residency opportunities for artists and writers worldwide, and maintaining long-term studio spaces dedicated to Florida Keys artists.
Stop by if you're in Key West. There's a good chance you'll find Judy behind the register, or stocking books on the shelves.
Check out the
newest edition of
Judy's latest novel,
now in paperback.






In 1987, Miri Ammerman returns to her hometown of Elizabeth, New Jersey, to attend a commemoration of the worst year of her life.

Thirty-five years earlier, when Miri was fifteen, and in love for the first time, a succession of airplanes fell from the sky, leaving a community reeling. Against this backdrop of actual events in the early 1950s, when airline travel was new and exciting and everyone dreamed of going somewhere, Judy Blume imagines and weaves together a haunting story of three generations of families, friends, and strangers, whose lives are profoundly changed by these disasters. She paints a vivid portrait of a particular time and place—Nat King Cole singing "Unforgettable," Elizabeth Taylor haircuts, young (and not-so-young) love, explosive friendships, A-bomb hysteria, rumors of Communist threat. And a young journalist who makes his name reporting tragedy. Through it all, one generation reminds another that life goes on.

In the Unlikely Event is a gripping novel with all the hallmarks of Judy Blume's unparalleled storytelling.